Club News 1st December 2018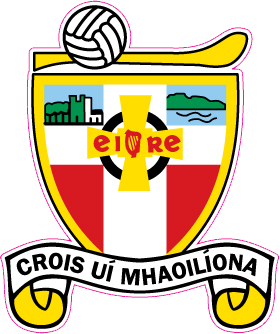 Lotto Results
There was no winner of the Crossmolina Deel-Rovers GAA Club Lotto Jackpot on Saturday night 24th of November 2018. The numbers were 4, 15, 26, 29, three punters matched three numbers, Madge Moffatt, Michael & Marie Gallagher and Claire Grehan, each win €50. The draw took place in Hiney's Bar. This week's jackpot is €3,150. Many thanks for your continued support.
The next draw is on 1st December in Maughan's Bar ;
Lotto Team on duty is Team C; Annette Gray, David & Anne Fox, Eamon Howley, Marie Haran, Sheila Mullen and Josie Fox.
Tony Scoops Lotto Jackpot

Congratulation to Tony Reape Chapel Rd Crossmolina who matched the four winning numbers 10 – 20 – 22 – 24 in the Crossmolina Deel-Rovers GAA Lotto Jackpot and won €13,050 on Saturday night 17th November . The draw took place in Sticks Bar. This Week Jackpot is €3,000. Many thanks for all your support



Results

Ladies U18s win Minor League Division 3A Final
C.L. McHale Rovers 2-17 Tuar Mhic Eadaigh 3-10 after extra time
Congratulations to our minors and mentors who emerged as County Champions after a thrilling encounter in Crossmolina

Ladies Win County Title
McHale/Rovers 1-11 Park/Keelogues/Crimlin 3-4
McHale Rovers snatched a dramatic late point from scorer in chief Rachel Kearns who scored 1-10 of her sides totals to capture the county Junior League title against a gallant Park/Keelogues/Crimlin side at a wet and windy St Joseph's Park Knockmore on Sunday week. McHale/Rovers we in Control in the opening thirty minutes when assisted by the breeze and lead by 1-5 to 0-2. The last 30 minutes was very exciting with West Mayo Girls coming more into game and three goals made for nail biting finish for the North Mayo side who snatched that late winning point
Mc Hale/Rovers team was Christina Lynn Marie O'Donnell Ruth Queenan Hannah Davidson Lisa Maughan Aoife Deane Katie Merrick Marie Larkin Eilish Keane Katrina Maughan Shauna Maughan Emily Murray 0 - 1Madeline Keane Rachel 1 – 10 Jennifer Kelly Subs Sinead Mulhern Dannielle Kelly Martina Gallagher Grace Murray Laura Walsh Audrey Keane Niamh Larkin Clara Kelly Aoife Hegarty Joanna O'Malley Niamh Maughan Stacy Mangan Avril Noone

Clinton Schools Cup
Crossmolina snatched a dramatic late point from Aaron Coggins to deny Ballycastle in this Annual Cyril Clinton memorial trophy played in Ballycastle in terrible wet and windy conditions on Wednesday of last week final score 0 – 7 to 0 -6
Crossmolina National School team were Dara Duffy Gary Naughton Ronan Connor James Loftus Fionn Cosgrove Esmond Maughan Dylan McHale Nathan Lynch Aaron Coggins 0-1 Luke Williams Zara Moyles 0-2 J O'Reilly Nigal Wood 0-1 Ethan Reilly Simon McHale 0-2 Subs Liam Clancy 0-1 Fiona Donnellan Hannah Keane Aaron Garrett Jack Menaghan Matthew Syron

National Schools Mini 7's
Crossmolina National School had a comfortable win over Corclough NS in the North Mayo mini 7s at a very wet and windy Belmullet on Wednesday of last week. The winners were in control throughout the final score was 3-5 0-1. They now go forward to County knockout stages in Castlebar later in the month
Crossmolina Panel and scorers were Patrick O'Malley Sean Óg McGuinness 0-1 Joey Keane 0-1 Josh Moyles 0-1 Dylan Flynn 0-1 Oisin Deane 0-1 Kobe McDonald 1-1 Ronan Walsh 1-0 James O'Boyle 1 - 0 Tom Gough

Under 15 League Division 3 Cup
Thu, 08 Nov, Venue: Connacht GAA Centre, (Final), Charlestown Sarsfields 5-16 Crossmolina Deel Rovers 3-10
On Mayo Basketball Team
Good luck to James O'Boyle Com Hegarty and Paddy Walsh who are on the Mayo U19 Basketball team who are touring New York and Philadelphia this week

Crossmolina Men on The Move
8-week programme Registration Wednesday 17th Oct 8pm Deelrovers Centre. Registration will include Blood pressure check, weigh in, body measurements, taken first and last week. Contact Bernie, Erris Fitness on: - 086 3904370 or facebook, also Crossmolina men on the move group page.

Development Draw Winners.
Congratulation to Patrick and Claire Hopkins Eskeragh who won €5,000 in the Crossmolina Club Development draw in association with Mayo GAA also to Chris Myles Abbeytown and Paddy. Joe Sweeney Enaghbeg who each won €200

Mindspace Outreach Service in Ballina FRC
Mindspace Mayo offers a support service to young people (15-25yrs) presenting with anything from common concerns (e.g. dealing with break-up, exam stress, bullying) to young people with emerging mental health difficulties such as mild depression and anxiety. The outreach service will run one day a week (Monday) and is based in the Ballina Family Resource Centre. For further information on Mindspace Mayo please see our website www.mindspacemayo.ie or call us on 094-9067001

Click on the following link for the latest news from Mayo PPN;

https://www.getrevue.co/profile/mayoppnetwork/issues/mayo-ppn-issue-32-132824


Deelrovers and MindSpace Mayo feature in the HSE Community Newsletter.

Click on the following link and see page 24.

HSE Community Healthcare West e-Newsletter


Read the latest news from the GAA in the September Club Newsletter;

http://gaa.ie/news/read-the-latest-gaa-club-newsletter-september-2018/

All Star Nominated
Congratulation to Rachel Kearns Carrowkeel who has been nominated for an all-Star award on the Ladys Gaelic Football Team for her performances with Mayo during the year. The 45 nominees were announced on Thursday last from around the four provinces and the final fifteen will be announced a t a gala function in the City West Hotel in Dublin on Saturday 1st December
Cairde Mhaigheo Club Delveopment Draw 2018

Draws 5 & 6 of the Club Development Draw for 2018 were hosted by Kiltane GAA over the weekend.
Congratulations to Clare & Patrick Hopkins from Crossmolina who won €5,000 in Draw 5 and to Chris Myles and Paddy Joe Sweeney who both won €200.

We also had two winners in draw 4. Cathal & Carmel Prior and Sharon & Kieran Traynor won €200. Well done and thank you for your continued support.

New Be Active 55'S
Inclusion Programme Tuesdays 12pm - 1pm Deel-Rovers GAA hall. Covering all aspects of health & fitness for men and women, you dont have to be over 55 years to join this friendly group. Refreshments and a chat afterwards. Contact Bernie, Erris Fitness on: - 086 3904370 for further information.
Votes of Sympathy
At the recent October Executive meeting of the Crossmolina Deel-Rovers G A A Club. Votes of sympathy were expressed to the Families of the following who died recently. May Preston ne Bryce Ballyscanlon, Michael Gillispie Erris St formerly of Fiddaune Keenagh, Ann Farrell nee Devine Mount Falcon Ballina mother of Emma and Louise who work in O'Donnells Centra, James Clancy Kinlough Co Leitrim uncle of Padraic Clancy Carrowcloughy , James Finnerty Cloonaghmore Garanard Moygownagh, Vivian McCawley Carramore Lacken Vincent Shea Slievengark Ballina, brother of Pauline Loftus Tubbermore, Marie Sweeney nee Marley Derrycoosh Islandeady Frank Molloy Claremorris, Tony Finnerty Carn Moygownagh Gina Carney nee Waldron Corheens Breaffy wife of Martin, Joe Gallagher Fiddaune Keenagh, Johnny Orme Correens Moygownagh, Maura O'Boyle Nee Gardiner Ballymanagh, Bridgie Cuffe Townagh Bellacorick, Michael Cosgrove Knockfree, James (Jim) Davis Ranelagh Dublin formerly of Bridge St Crossmolina, May they rest in peace

Club members
All Club members are asked to email deelrovers@gmail.com with any jobs that they see needs doing around the GAA grounds. We are actively seeking suggestions on any way to improve our Club.

Crossmolina Deel Rovers Lock up duty Rota 2017 - 18

Date




From Monday
To Sunday
Name 1

Name 2
26/11/18
2/12/18
PJ Hughes
John Moran
3/12/18
9/12/18
John O Donnell
Gerry Heffernan
10/12/18
16/12/18
Seamus Jordan
Micheal Judge
17/12/18
23/12/18
Tommy Jordan
Padraig Mullen
24/12/18
30/12/18
Enda Lavelle
Richie Shelley
31/12/18
6/1/19
Cathal Prior
Sean Keane
7/1/19
13/1/19
John Hegarty
Michael Hegarty
Approx 2002