Club News 4th September 2018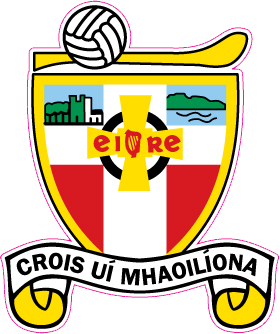 Mayo U14 Squads play Dublin in DCU
Well done to Crossmolina Deelrovers players Eoghan Murphy, Darragh Syron, Diarmuid Coggins and Niall Maughan who represented Mayo U14s in games Vs Dublin Development squads in DCU campus on Saturday last. In charge of the Mayo U14 squads was Ciaran McDonald.
There was no winner of the Crossmolina Deel-Rovers GAA Club Lotto Jackpot on Saturday night 25th August. The numbers were 9 – 12 – 31 – 32, five punters matched three numbers. Gary Mc Nulty, St. Patrick's Ave, Jacinta & Enda Lavelle, Church View, Peggy Holmes, Ballymachola, James Gallagher, Mullenmore, Bridie Conway, Abbeyview, and each win €30. The draw took place in Maughans. This week's jackpot is €11,400. Many thanks for your continued support

The next draw is on 1st of September in the Thatch Bar;
Lotto Team on duty is Team C; Annette Gray, David & Anne Fox, Eamon Howley, Marie Haran, Sheila Mullen and Josie Fox.
Fixtures
North Mayo Minor B Championship Final 2018
Fri, 31 Aug, Venue: James Stephens Park, Ballina, (Final), Crossmolina Deel Rovers V Ardmoy MacHales 19:15, Ref: John Walker
North Mayo U16C Championship 2018
Sun, 02 Sep, Venue: Crossmolina , (Semi Final 2), Crossmolina Deel Rovers V Bonniconlon 18:00, Ref: Charlie Collins
Under 13 League Division 2B
Mon, 27 Aug, Venue: Tallagh (Belmullet), (Round 2), Belmullet V Crossmolina Deel Rovers 19:00, Ref: John Walker
Results
Connacht Gold Mayo Snr Championship - Group 3
Sat, 25 Aug, Venue: Claremorris GAA, (Round 2), Claremorris 2-13 Crossmolina Deel Rovers 0-11

Crossmolina; Kieran Haran, Stephen Duffy, Tom Cafferty, Derek Hegarty, Peadar Gardiner, Hugh Cafferty, Kevin Mulhern, Martin McAndrew, Cathal Carolan (0-02), Mikie Loftus, Brian Benson, Tommy Walsh, David Howley, Conor Loftus (0-01), Finaun Duffy (0-08).

Subs; JP Mulhern for Tommy Walsh (50mins), Chris Myles for David Howley (54 mins).
Homeland Homeland Under 16 E Championship Cup
Wed, 22 Aug, Venue: Crossmolina , (Semi Final 1), Crossmolina Deel Rovers 1-10 Ballyhaunis 6-18

Ballyhanuis ran out easy winner over Crossmolina in the county U16 League Semi-final at Tiernans Park on Wednesday of last week. After a well contested first half only three points separated the sides approaching the half time break But a Kian Burke goal and points each from Daniel Murray and Simon McDonagh changed that too eight points 3 -9 to 1- 8. After the break Ballyhanuis took complete control and all Crossmolina could muster were two points from James Williams and Diarmuid Walsh with the visitors tacking on a further 3 – 9 to advance to the county final
Crossmolina team John Tolan Jason Syron Conor Howley Vladimir Gordetskyy Liam Connor Michael Gill Sean Hegarty Jonathan Murtagh 0 – 1 Diarmuid Walsh 0 – 4 Killian Fergus 1 - 1 James Williams 0 – 3 Ethan Connor Niall Coggins 0 – 1
Subs Mark Kearns for Ethan Connor Brian McKinley for Michael Gill Luke Rowland for James Williams Killian Gilroy for Conor Howley Darragh Duffy for Killian Fergus

Breaffy House Resort Mayo Junior A Championship - Knockout
Sat, 18 Aug, Venue: Bangor Erris, (Relegation S/F), Ballycastle 2-11 Crossmolina Deel Rovers 2-10

Ballycastle escaped with a one point win over Crossmolina in this Junior Championship relegation play-off at a very wet Bangor Erris. After dominating for long spells after opening quarter that produced just points each from Michael Tighe and Nigal Caden. Shane Healy drover over two points before Crossmolina sub Shane Hennigan fisted to the net. This score spurred on the Seasiders Shane Healy raised a green flag and Conor Thomas Marcus Hunt Dermot Kelly and Shane Healy all tacked on points to leave their side in a commanding 1 – 9 to 1 – 1 at the break. Crossmolina quickly reduced the lead with points each from Nigal Caden and Shane McKinley but five wides followed J.P. Mulhern stepped in with two inspirational scores and Thomas McNulty and Jonathan O'Boyle followed with points each. Fergal Forde replied with two points for Ballycastle and Sub Tom Tomas grabbed a vital goal for his side. Crossmolina were not going to give up without a fight and Thomas McNulty kicked two points Stephen O'Malley added another before A Nigal Caden free deceived everybody and wet into the net to leave just a point separating the sides at the end after a action packed last quarter Final score 2 – 11 to 2 – 10.

Crossmolina; Patrick Loftus, Jason Murphy, Stephen O'Malley (0-01), Kenneth McHugh, Pat Loftus, Jonathan O'Boyle (0-01), Noel Hegarty, J. P. Mulhern (0-02), Kevin Keane, Shane McKinley, Nigel Caden (1-02), Liam Donohoe, Keelan Hegarty, David O'Malley, Thomas McNulty (0-03).

Fergal for Jason Murphy, Ferghal Duffy for Liam Donohoe, Shane Hennigan (1-00) for David O'Malley, John Garrett for Pat Loftus.

Mayo Snr League Division 1
Sun, 19 Aug, Venue: James Stephens Park, (Round 9), Ballina Stephenites 3-22 Crossmolina Deel Rovers 0-8

Ballina were completely in control once Cieran Treacy grabbed his sides first goal after 5minuets it was on way traffic with a string of points from James Doherty Mickie Murray Evan Regan Simon Leonard Keith Tighe three and Cieran Treacy five Tommy Walsh Fionan Duffy one each and two from Brian Benson which left the half time score 1 - 12 to 0 – 4 . The trend of scoring continued after the break two late goals from Keith Tighe and Evan Regan completed the rout Fionan Duffy kicked the Deel-Siders four points on a really miserable after noon
Ballina Team David Clarke Stephen Mullins David O' Mahoney Christopher Hunt Stephen Sheridan John Moylett James Doherty 0 – 1 Jack Irwin Mickie Murray 0 – 3 Conor McStay Simon Leonard 0 – 3 David Tighe Evan Regan 1 – 3 Keith Tighe 1 – 4 Ciaran Tracey 1 – 8 Subs Ger Cafferkey for John Moylett Kieran Sweeney for David Tighe Lorcan Healy for David O'Mahoney Thomas Doherty for James Doherty Padraic O'Hora for Conor McStay Diarmuid Durkan for Ciaran Tracey

Crossmolina Kieran Haran Fergoil Gill Hugh Cafferty Derek Hegarty David Howley Thomas Cafferty Stephen Duffy Kevin Mulhern Martin McAndrew Mickie Loftus Fionan Duffy 0 – 5 Tommy Walsh 0 – 1 Brian Benson 0 – 2 J.P.Mulhern Cathal Carolan Subs Nigal Caden for J.P.Mulhern Jason Murphy for Stephen Duffy Liam Donohoe for Thomas Cafferty

New Club Sponsorship announced;
Many thanks are extended to John Mullen of Version1 for his commitment to sponsor Crossmolina Deelrovers, John has maintained the MindSpace logo on the front of our jersey as he has great appreciation for the great work being carried done for young persons by the Mayo based organisation run by our very own Peadar Gardiner.
Club News
Mayo U14 Squads play Dublin in DCU
Well done to Crossmolina Deelrovers players Eoghan Murphy, Darragh Syron, Diarmuid Coggins and Niall Maughan who represented Mayo U14s in games Vs Dublin Development squads in DCU campus on Saturday last. In charge of the Mayo U14 squads was Ciaran McDonald.
Votes of Sympathy
At the Executive meeting of the Crossmolina Deel-Rovers G A A Club on Tuesday night 10th July Votes of sympathy were expressed to the Families of the following who died recently. Billy Cooke Fortland Crossmolina, Bridie Devine nee Mullen The Quay Ballina aunt of Padraic Mullen Knockleggan, Charlie Sweeney Hammersmith England and Carrowcloughy Crossmolina husband of Bridie Clancy, Tony Healy Cullens Ballina brother – in – law of John Moran Lecarrow, Mary McCormack nee Callaghan Dublin sister of Jackie Callaghan and Patsy Cronin Laherdane, Bridget (Dolly) Noone nee Gallagher Belcarra Castlebar wife of the late Anthony. May they rest in peace
Deel-Rover Thank You.
Crossmolina Bord Na Nog would like to thank everybody who contributed to our recent Church Gate Collection which amounted to €1,005.55. Thanks to all who helped on the day
Club members
All Club members are asked to email deelrovers@gmail.com with any jobs that they see needs doing around the GAA grounds. We are actively seeking suggestions on any way to improve our Club.
Crossmolina Deel Rovers Lock up duty Rota 2017 - 18

Date




From Monday
To Sunday
Name 1

Name 2
18/6/18
24/6/18
Cathal Prior
Sean Keane
23/7/2018
29/07/2018
Tommy Jordan
Padraig Mullen
30/07/2018
5/08/2018
Enda Lavelle
Richie Shelley
6/8/18
12/8/18
Cathal Prior
Sean Keane
13/8/18
19/8/18
John Hegarty
Michael Hegarty
20/8/18
26/8/18
PJ Hughes
John Moran
Crossmolina Deelrovers Juniors Vs Knockmore 21 July 2018
Crossmolina Deelrovers Minors Vs Naomh Padraig in Ballycastle 19 July 2018
Crossmolina Deelrovers U14s Mayo semi final Vs Belmullet July 2018
John Mullen Version1 & Peadar Gardiner MindSpace Mayo supporting Crossmolina Deelrovers
Version1 John Mullen with Peadar Gardiner, MindSpace Mayo and Crossmolina Deelrovers and Cathal Carolan and Steven Duffy.