Club News 29th September 2018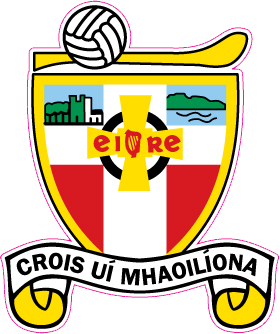 There was no winner of the Crossmolina Deel-Rovers GAA Club Lotto Jackpot on Saturday night 22nd September. The numbers were 3 – 13 – 19 - 20, five punters matched three numbers, Anita & Greg Regan, Thomas & Josephine McNulty, Frances Browne, Niall Finnerty, JG & Eileen Loftus, each win €30 each. The draw took place in Lynotts Bar. This week's jackpot is €12,000. Many thanks for your continued support.
The next draw is on 29th September in Sticks Bar;

Lotto Team on duty is Team D; P.J. & Patricia Hughes, Mary Jordan, Teresa Moyles, Maureen Mulligan, John & Mary Moran, P.J. Hughes Jnr.
Fixtures
Mayo Snr League Division 1
Sat, 29 Sep, Venue: Pairc Josie Munnelly, (Round 11), Castlebar Mitchels Football V Crossmolina Deel Rovers 17:00, Ref: JoHn Finn

Mayo Snr League Division 4
Sun, 30 Sep, Venue: Crossmolina , (Round 12), Crossmolina Deel Rovers V Castlebar Mitchels Football 11:30, Ref: Liam Higgins

North Mayo Minor B Championship Final 2018
Sat, 29 Sep, Venue: Ballina, (Final), Crossmolina Vs ArdMoy McHales 12:00, Ref: John Walker
Under 13 League Division 2B
Mon, 24 Sep, Venue: Killala, (Round 5), Naomh Padraig V Crossmolina Deel Rovers 18:30, Ref: Malachy Mc Carron

Under 15 League Division 3B
Sun, 30 Sep, Venue: Crossmolina , (Round 3), Crossmolina Deel Rovers V Balla 11:00, Ref: John Walker
Connacht Gold Mayo Snr Championship - Knockout
Sun, 23 Sep, Venue: James Stephens Park, Ballina, (Relegation S/F), Crossmolina Deel Rovers 0-7 Knockmore 1-12

Crossmolina; Patrick Loftus, Stephen Duffy, Tom Cafferky, Derek Hegarty, Peadar Gardiner, Hugh Cafferky, Kevin Mulhern, Martin McAndrew, Cathal Carolan, Tommy Walsh, JP Mulhern, Mikie Loftus, David Howley, Conor Loftus (0-01), Finaun Duffy (0-06).

Subs; Mike Gallagher for JP Mulhern. Kenneth McHugh for David Howley. Stephen O'Malley for Hugh Cafferky.

Under 15 League Division 3B
Sun, 23 Sep, Venue: Crossmolina , (Round 2), Crossmolina Deel Rovers 8-17 Bonniconlon 3-1

North Mayo U16 C Championship
Wed, 12 Sep, Venue: James Stephens Park, Ballina, (Final), Knockmore 0-2 Crossmolina Deel Rovers 2-10

Crossmolina retained the North Mayo U16 C title with a comfortable win over Knockmore At James Stephens Park on Wednesday last. After leading by four points at the break after playing against the breeze with points from Diarmuid Walsh two and one each from Sean Hegarty and Jonathan Murtagh, Goals from Jonathan Murtagh and James Williams in the 35th and 43rd minutes and a string of points from Diarmuid Walsh Micheal Gill Niall Coggins Killian Fergus and James Williams with Knockmore's only reply was two points from frees by Tadhg O'Sullivan to leave Crossmolina winners by 2-10 to 0-2. Knockmore had a fair share of possession a specially in the opening half but found the Deel-Siders defences solid with Vladimir Gordetskyy Jason Syron Liam Connor and Conor Howley most prominent throughout
Crossmolina team John Tolan Brian McKinley Jason Syron Conor Howley Vladimir Gordetskyy Liam Connor Micheal Gill 0 – 1 Sean Hegarty (Capt) 0 – 1 Jonathan Murtagh 1-1 Conal Carolan Killian Fergus 0-2 James Williams 1-1 Niall Coggins 0-1 Luke Rowland Diarmuid Walsh 0-3 Subs Cillian Gilroy for Conal Carolan Darragh Duffy for Luke Rowland Alfie Maloney for Brian McKinley Conor Reynolds for Jonathan Murtagh Eamon Gill for Micheal Gill
Mayo Minor championship
Ardnaree emerged three point's winners in this County Minor Championship tie at Sean Duffy Park on damp misty Friday evening. With the sides evenly matched the hosts lead at the break 1-7 to 1-5 A Keelan Hegarty goal after he got his fist to a Colm Hegarty 45 to bring his side right back into the games after Ardnree has held the upper hand in the opening quarter with Mark McDonald Peter Timlin the main threat. After the break Edward Gough dispatched the ball to the net from the penalty spot Keelan Hegarty and P.J.Gilmartin traded points before Dylan Keane and P.J Gilmartin raised a couple of white flags and it was those two player who dominated the Ardnaree scoring for the remainder of the half Crossmolina kept in touch with points from Edwaed Gough Colm Hegarty and Keelan Hegarty but Dylan Keane goal in the 56th minute insured a Ardnaree victory by 2-14 to 2-11
Crossmolina team John Tolan Eoin McDonnell Daniel Howley Anthony Leonard Patrick McAndrew Adam Langan Conor Caden 0-1 Colm Hegarty 0-1 Tommy Loftus 1-1 Keelan Hegarty 0-2 Lorcan Loftus Edward Gough 1-6 James Gill Sub Jason Syron for James Gill Lee Carolan for Anthony Leonard Luke Callaghan

Under 15 League Division 3B
Sun, 16 Sep, Venue: Cill Chomain, (Round 1), Kilcommon 6-7 Crossmolina Deel Rovers 10-13

Crossmolina U15team had a comfortable win over Cill Chomain in a high scoring entertaining league tie in Glenamoy on Sunday week final score 10-13 to 6-7
Crossmolina team Conor Reynolds Conor Howley Liam Connor Brian McKinley Danny McDonald Darren Syron Micheal Gill Jonathan Murtagh 1-5 Niall Maughan 1-0 Conal Carolan Diarmuid Walsh 3-3 Luke Rowland 2-0 Eoin Murphy 2-3 Diarmuid Coggins Subs Declan Tolan 0-1 for Luke Rowland Eoin O'Boyle for Danny McDonald Ronan Loftus for Diarmuid Coggins Mickie Maloney for Conal Carolan Jack Loftus for Conoe Howley Alfie Maloney for Eoin Murphy


Club News
Cairde Mhaigheo Club Delveopment Draw 2018

Draws 5 & 6 of the Club Development Draw for 2018 were hosted by Kiltane GAA over the weekend.
Congratulations to Clare & Patrick Hopkins from Crossmolina who won €5,000 in Draw 5 and to Chris Myles and Paddy Joe Sweeney who both won €200.

We also had two winners in draw 4. Cathal & Carmel Prior and Sharon & Kieran Traynor won €200. Well done and thank you for your continued support.

NEW ACTIVE 55's GROUP.
Crossmolina GAA Club, Commencing Tuesday 25th September 12pm-1pm. Excerises and Activities to suit men and women, you don't have to be over 55 to enjoy these low impact classes. We will be adding in more fun and games activities, so you can really enjoy your group each week. Each week there is always a cuppa and a chat for everyone after class. Contact Erris Fitness for more information on:- 086 3904370, errisfitness@gmail.com or Facebook.


New Club Sponsorship announced;
Many thanks are extended to John Mullen of Version1 for his commitment to sponsor Crossmolina Deelrovers, John has maintained the MindSpace logo on the front of our jersey as he has a great appreciation for the great work being carried out for young persons by the Mayo based organisation run by our very own Peadar Gardiner.
Badminton Resumes.
Crossmolina Badminton club resumes on this Wednesday 19th September. Primary School 7-8pm, secondary school 8-9pm and Adults 9pm -10pm
Votes of Sympathy.
At the Executive meeting of the Crossmolina Deel-Rovers G A A Club on Tuesday night 11th September Votes of sympathy were expressed to the Family's of the following who died recently. Mary Browne nee Foley The Moorings Ballina formerly of St Patricks Ave Crossmolina, Edward Gillispie Fiddaun Keenagh, Michael Hopkins Eskeragh, Ann. Marie Corduff Knockaphunta Park Westport Rd Castlebar formerly of Mullenmore Rd, Charlie Finnerty Ardvarnen Moygownagh, Joie O'Hora nee Maughan Rathnaconeen Ballina, Paddy McAndrew St Marys Park Crossmolina, Sarah Loftus nee Noone Cloughbrack Bofeenaun, Josie Moran Killala cousin of John Moran Lecarrow, Maureen Boland nee Anderson Moneymore Crossmolina, Willie Garrett Mullenmore Rd Crossmolina, Margaret Gallagher Knockmore mother of Martin Mullenmore Crossmolina, Lena Togher nee Wilson Drum Clogher Belmullet mother of Mary Gallagher Lecarrow, Margaret Donohue nee Loftus USA formerly of Dooleeg sister of John Loftus, Padraic Hopkins Ballina St formerly of Dooleeg, Owen Joseph Walker Castlefield Manor Ballina father of John North Mayo GAA Secretary, P.J. Cafferkey Fairfield husband of Margaret Duffy Erris St, Kathriona Clancy nee McHale Artane, Dublin formerly of Rathball Knochanillaun, Conor Dempsey Rathduff, Cloghans, Knockmore, Michael Jordan Kilkenny Cross Castlebar father of Toni of Sticks Bar Crossmolina. May they rest in peace.
Deel-Rover Thank You.
Crossmolina Bord Na Nog would like to thank everybody who contributed to our recent Church Gate Collection which amounted to €1,005.55. Thanks to all who helped on the day
Club members
All Club members are asked to email deelrovers@gmail.com with any jobs that they see needs doing around the GAA grounds. We are actively seeking suggestions on any way to improve our Club.

Mayo Championship Draws;
The Quarter finals & Relegation draws for the Mayo GAA Connacht Gold SFC & Egan Jewellers IFC will take place at 8.30pm tomorrow evening in Elverys MacHale Park. Clubs are welcome to attend to find out who they will be playing on Sept 21/22/23.

Note to GAA fans from Mayo GAA TV;
Mayo GAA TV are pleased to announce we will be once covering Mayo GAA clubs championship games in the coming months.
Our first broadcast will be next Sunday 16th September live from Elverys MacHale Park where we will cover the Mayo GAA Breaffy House Resort Junior A championship A semi-final between Achill & Kilmeena. We will be showing this game for free to get you up & running for the 2018 season. All other games will be pay per view.
We will be live the following weekend September 22/23rd with games from either the Connacht Gold Senior Football championships or Egan Jewellers Intermediate football championship. Throughout September & October we plan on covering the Senior, Intermediate & Junior championships.
There will be expert analysis on hand from ex-players to explain where the battles were won & lost. We will also have local club analysts along with our match commentators to take us through the action on the pitch aswell as getting post game reaction from the teams involved.

Mayo GAA TV covered games right throughout the 2017 Mayo GAA club championship having broadcast 30 games across the Senior, Intermediate, Junior & Minor championships. All games can be watched back on our match player. It's an ideal service for those at home or abroad who can't make it to a game. Check out www.mayogaatv.com for all you need to know about Mayo GAA TV.



Crossmolina Deel Rovers Lock up duty Rota 2017 - 18

Date




From Monday
To Sunday
Name 1

Name 2
20/8/18
26/8/18
PJ Hughes
John Moran
27/8/18
2/9/18
John O Donnell
Gerry Heffernan
3/9/18
9/8/18
Seamus Jordan
Micheal Judge
10/9/18
16/9/18
Tommy Jordan
Padraig Mullen
17/9/18
23/9/18
Enda Lavelle
Richie Shelley
24/9/18
30/9/18
Cathal Prior
Sean Keane
1/10/18
7/10/18
John Hegarty
Michael Hegarty